Subscribe to our email list to learn more about upcoming sessions and special events
Saturday's Open Gym Begins Again!
Beginning Saturday, July 3rd (NOT JUNE)
11:30-12:30 pm
$5 per child
All children ages 18 months - 18 years welcome!
Family Gym Rentals
Rent the gym for 1 hour @ $45 for up to 8 children (from 1-3 families).
Private and exclusive access to all 7500 square feet of gym space, and all equipment. Please email us for our current availability. This event is very popular and fills up fast!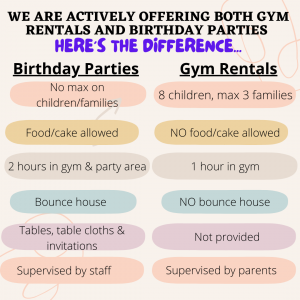 June

2021

Sun
Mon
Tue
Wed
Thu
Fri
Sat

22

Tara Wood and Kristin Driscoll

•

24

Drop deadline (to stop payments for next month)

•

28

Tuition due for next month

•