Subscribe to our email list to learn more about upcoming sessions and special events
Class Registration Now available all ONLINE!
NEW OPPORTUNITIES
Worried about sending your children to tumbling because of Covid-19? Now offering PRIVATE LESSONS and PLAY DATES!
Private Lessons
Private lessons are available for children ages 5+ to work on basic to advanced tumbling skills. Your child will get the entire 7,500 square foot gym to themselves! Wait, it gets even better - Invite your friends or siblings because we are offering private lessons for up to 3 children at a time, for our typical $50 rate. Evening and weekend times are available. If you are interested, please email us to work out a day and time!
Play Dates!
Now offering play dates!
Are you looking for something active for your children to do? Look no further! Playdates are designed to limit interactions to just your small group of children and friends. Book the entire gym for a 1 to 2 hours exclusively for your group! Playdates are for up to 12 children or less at $70 (60 minutes) or $100 (75 minutes). Use this experience as a playdate or as a birthday party, whichever you prefer! Playdates are unscheduled and allow for free time. Times available are: Friday evenings, Saturdays after open gym (12:30 pm), and anytime Sunday! Just email or call us to work out your playdate time!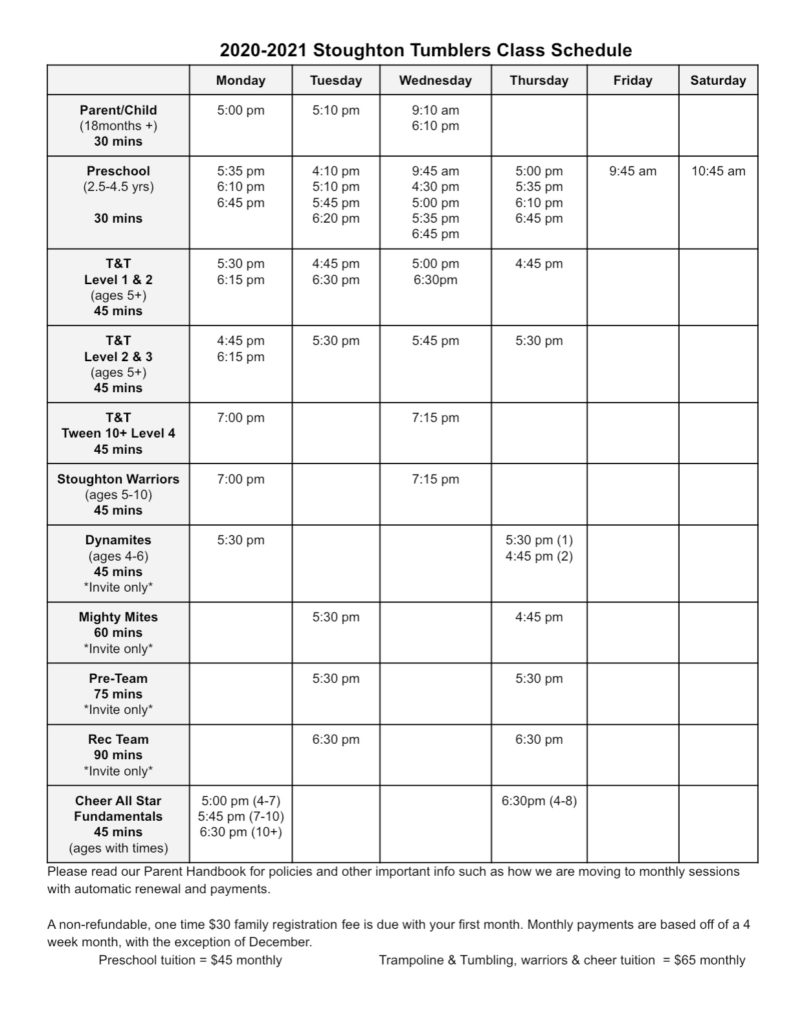 Due to the current situation with covid-19, we understand that you may not be completely comfortable committing to a fall sport quite yet. Since space in each class is limited, we recommend you sign up for class now and if needed, email us to withdrawal by September 1st. If you withdrawal from class on or prior to September 1st, you will not be charged the registration or class tuition. A one time family registration fee of $30 is due with your first session.
A debit or credit card is now required to sign up for classes. If you need special payment arrangements, please email us to get you started. Once your child in enrolled in a class, they will continue to be enrolled monthly with your monthly tuition billed to your existing credit card on file. If you would like to withdrawal from a class, you may do so at any point before the 24th of the month to not be billed for the following month. Click HERE for more information found on our parent handbook.
January

2021

Sun
Mon
Tue
Wed
Thu
Fri
Sat

24

Drop deadline (to stop payments for next month)

•

28

Tuition due for next month

•