Subscribe to our email list to learn more about upcoming sessions and special events
Classes for children ages 18 months to 18 years!
Fall classes begin Monday, September 6th (Labor Day). Billing is monthly and reoccurring via Go Motion.
Summer classes will remain the same through August. Summer enrollment has been removed from the online website (to lesson confusion) but you may still enroll in classes through August. Please contact us directly to enroll for the remainder of July and or August.
EVERYONE must re-enroll for Fall classes, even if you currently are enrolled. The schedule has changed slightly. The 2021-2022 annual registration fee of $30 will be due at the time of sign-up. Please contact us with any questions.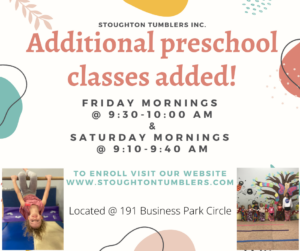 January

2022

Sun
Mon
Tue
Wed
Thu
Fri
Sat

1

CLOSED FOR WINTER/Christmas Break

•

2

CLOSED FOR WINTER/Christmas Break

•

8

Open gym 10:30-11:30 @$5

11:45 booked

1:00-3:00 booked

3:15-5:15 Booked

• • • •

15

Open gym 10:30-11:30 @$5

11:45 booked

1:00-3:00 booked

3:15-5:15 Booked

PNO 5:30-9:30

• • • • •

22

Open gym 10:30-11:30 @$5

1:00-3:00 booked

3:15-5:15 party booked

• • •

24

Drop deadline (to stop payments for next month)

•

28

Tuition due for next month

•

29

Open gym 10:30-11:30 @$5

1:00-3:00 booked

3:15-5:15 booked

PNO - parents night out

• • • •

30

10:30-12:30 booked

1:00-3:00 booked

3:30 booked

• • •