Subscribe to our email list to learn more about upcoming sessions and special events
Stoughton Tumblers is looking for qualified coaches who are passionate, hard-working, and knowledgeable about the sport (or a similar sport). Please email us if you are interested in a position. Hours are evenings between 4:30-7:30 pm with weekend hours available as well. Pay is dependent on experience.
Classes for children ages 18 months to 18 years. Enrollment is done online with automatic re-enrollment. See you soon!
Looking to host your chid's birthday party at Stoughton Tumblers?
BEGINNING IN JUNE OF 2023, OUR BASE BIRTHDAY PARTY PRICE WILL BE RAISED TO $200.00 (up from $185).
Host your child's birthday party at Stoughton Tumblers! Our weekend schedule fills up quickly! To see available dates and times, view our calendar below. Parties are held each Saturday from 1:00-3:00 and 3:15-5:15 pm and on Sundays upon request.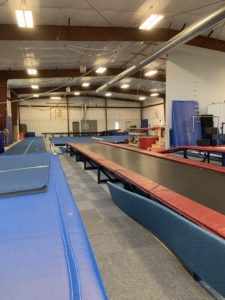 February

2023

Sun
Mon
Tue
Wed
Thu
Fri
Sat

4

9:30-10:30 booked

Open gym 11:30-12:30 pm

Open gym 11:30-12:30 pm

1:00-3:00 booked

3:15-5:15 booked

5:30-9:30 PNO

• • • • • •

10

Open gym @ 10:45-11:45

5:00-7:00 booked

• •

11

9:30-10:30 booked

Open gym 11:30-12:30 pm

1:00-3:00 booked

3:30-5:30 Booked

• • • •

18

9:30-10:30 booked

Open gym 11:30-12:30 pm

Open gym 11:30-12:30 pm

1:00-3:00 booked

3:30-5:30 booked

• • • • •

19

10:30-12:30 booked

1:00-3:00 booked

3:30-5:30 booked

• • •

25

9:30-10:30 booked

Open gym 11:30-12:30 pm

Open gym 11:30-12:30 pm

1:00-3:00 booked

3:30-5:30 booked

• • • • •

26

11:00-1:00 booked

1:30-3:30 booked

• •

27

Email to stop next months tuition if you wish!

•