* Tumblers is CLOSED May 28th through June 2nd *
Summer Camps are back for 2023!
Stoughton Tumblers summer camps will be held on select weeks and run each Monday, Wednesday and Friday of those weeks. Pick and choose your weeks. No payment is due at the time of sign up. Camps are from 8:00-11:30am for $60 a week (M,W&F). Participants will play both indoors and outdoors, make crafts, jump & bounce on all gym equipment, and be provided a healthy snack. Sign up will begin in March!
Classes for children ages 18 months to 18 years. Enrollment is done online with automatic re-enrollment. See you soon!
Looking to host your chid's birthday party at Stoughton Tumblers?
Host your child's birthday party at Stoughton Tumblers! Our weekend schedule fills up quickly! To see available dates and times, view our calendar below. Parties are held each Saturday from 1:00-3:00 and 3:15-5:15 pm (or 3:30) and on Sundays upon request.
* Please see the birthday party tab for more information*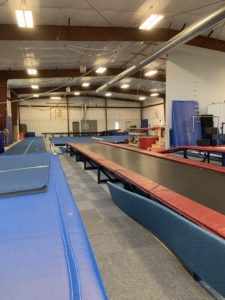 May

2023

Sun
Mon
Tue
Wed
Thu
Fri
Sat

6

9:30 booked

Open gym 11:30-12:30 pm

1:00-3:00 booked

3:30-5:30 booked

• • • •

7

9:30-11:30 booked

12:00-2:00 booked

2:30-4:30 booked

• • •

12

Open gym @ 10:45-11:45

6:00-8:00 booked

• •

13

Open gym 11:30-12:30 pm

1:00-3:00 booked

3:15-5:15 booked

PNO 5:30-9:30 pm

• • • •

19

Syttende Mai weekend - no Saturday or Sunday special events

Open gym @ 10:45-11:45

• •

20

Syttende Mai weekend - no Saturday or Sunday special events

Open gym 11:30-12:30 pm

• •

21

Syttende Mai weekend - no Saturday or Sunday special events

•

27

Open gym 11:30-12:30 pm

1:00-3:00 booked

• •

28

CLOSED ALL WEEK- no classes until Saturday 6/3

•

29

CLOSED ALL WEEK- no classes until Saturday 6/3

•

30

CLOSED ALL WEEK- no classes until Saturday 6/3

•

31

CLOSED ALL WEEK- no classes until Saturday 6/3

•