Host your child's Birthday Party at Stoughton Tumblers Inc.!
IT'S FUN, EASY & CONVENIENT!
Birthday parties are available for children turning ages 2-18. See below for specific details!
Trampoline & Tumbling Parties
Trampoline & Tumbles parties have 100% private access to the entire gym for 2 hours. Private access to the entire gym includes all equipment (minus the stationary and traveling belt systems) and our 16x16 jungle-themed bounce house. Each party receives 1.25 hours in the gym for supervised play, followed by .75 hours in the party area for food, cake, and presents.
Parties are available every Saturday from 1:00-3:00 or 3:15-5:15. Friday evening and Sunday parties are available upon request.
Beginning June, 2023
Our base birthday party price will be raised from $185.00 to $205.00. There will still be an additional charge of $7 per child over participant number 15.
Coming in September 2023
Beginning in September, party hosts can add the MAGIC JUMP OBSTACLE COURSE to the party for an additional $25 charge (Total = $230 for 15 kids or less).
Parties book up quickly, so don't wait too long!
Stick with our Trampoline & Tumbling birthday parties OR try our NEW Laser Tag Parties!
Laser Tag Birthday Parties are designed to be a fast-paced, get your adrenaline-rushing, high-intensity birthday party. Participants will play a variety of organized laser tag games and "battles" as well as enjoy free time!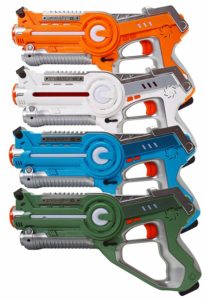 * 15 birthday party participants (including birthday child)
* All equipment provided by Stoughton Tumblers.
* Parties are for children ages 5+
* 75 minutes of laser tag activities & free time + 45 minutes in the party area (tables and table cloths provided)
Birthday Party Specifics...