Host your child's Birthday Party at Stoughton Tumblers Inc.!
IT'S FUN, EASY & CONVENIENT!
Birthday parties are available for children turning ages 2-18. See below for specific details!
Trampoline & Tumbling Parties
Trampoline & Tumbles parties have 100% private access to the entire gym for 2 hours. Private access to the entire gym includes all equipment (minus the stationary and traveling belt systems) and our 16x16 jungle-themed bounce house. Each party receives 1.25 hours in the gym for supervised play, followed by .75 hours in the party area for food, cake, and presents.
Parties are available every Saturday from 1:00-3:00 or 3:15/3:30-5:15/5:30
Friday evening and Sunday parties are available upon request
Birthday Party Details
Parties are 2 hours in length: 1.25 hours of supervised play time in the gym followed by 45 minutes in the party area. Parties are structured so once the participants exit the gym for cake, food, and presents, they are NO longer allowed back in the gym to play. We appreciate your support in this matter.
Parents are not permitted on equipment but may support young children in the gym as long as rules are followed.
We provide tables, tables clothes, and a happy birthday banner. You bring the rest (decorations, food, etc.)
Parties are $205.00 for 15 or fewer participants (+$7 per child over #15)
Payment due at the time of the party
Ask us for our complimentary invitation, or use your own
When communicating to schedule a party, your party date will be held for 1 week while communicating back and forth. If you fail to reply within a week, we reserve the right to move to another host if one is interested. Do not assume your party is booked until you specifically hear/read that your party is "on our calendar."
We look forward to working with you and making your child's birthday special!
Coming in September 2023
Beginning in September, party hosts can add the MAGIC JUMP OBSTACLE COURSE to the party for an additional $25 charge (Total = $230 for 15 kids or less).  *Booking must be done when the initial party is booked.
Parties book up quickly, so don't wait too long!
Stick with our Trampoline & Tumbling birthday parties OR try our NEW Laser Tag Parties!
Laser Tag Birthday Parties are designed to be a fast-paced, get your adrenaline-rushing, high-intensity birthday party. Participants will play a variety of organized laser tag games and "battles" as well as enjoy free time!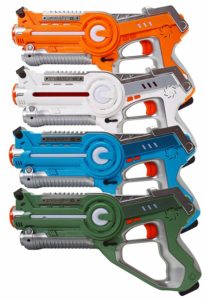 * 15 birthday party participants (including birthday child)
* All equipment provided by Stoughton Tumblers.
* Parties are for children ages 5+
* 75 minutes of laser tag activities & free time + 45 minutes in the party area (tables and table cloths provided)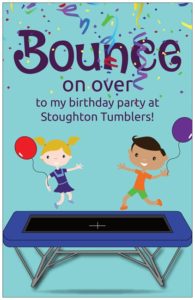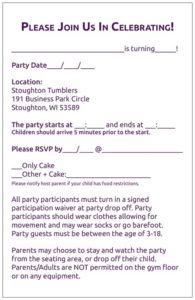 Party invitations design vary