Stoughton Tumblers Offers Classes for Everyone!
Classes will resume all summer following the current 2022 schedule.
We are CLOSED July 1st through July 4th and August 26th through September 4th.
Our new Fall schedule will begin on Tuesday, September 5th. When enrolling online for Fall, please look for "FALL 2023" classes to ensure you select the correct classes. Enrollment begins on Monday, June 19th!
2023 Stoughton Tumblers Schedule
This schedule begins on Tuesday, September 5th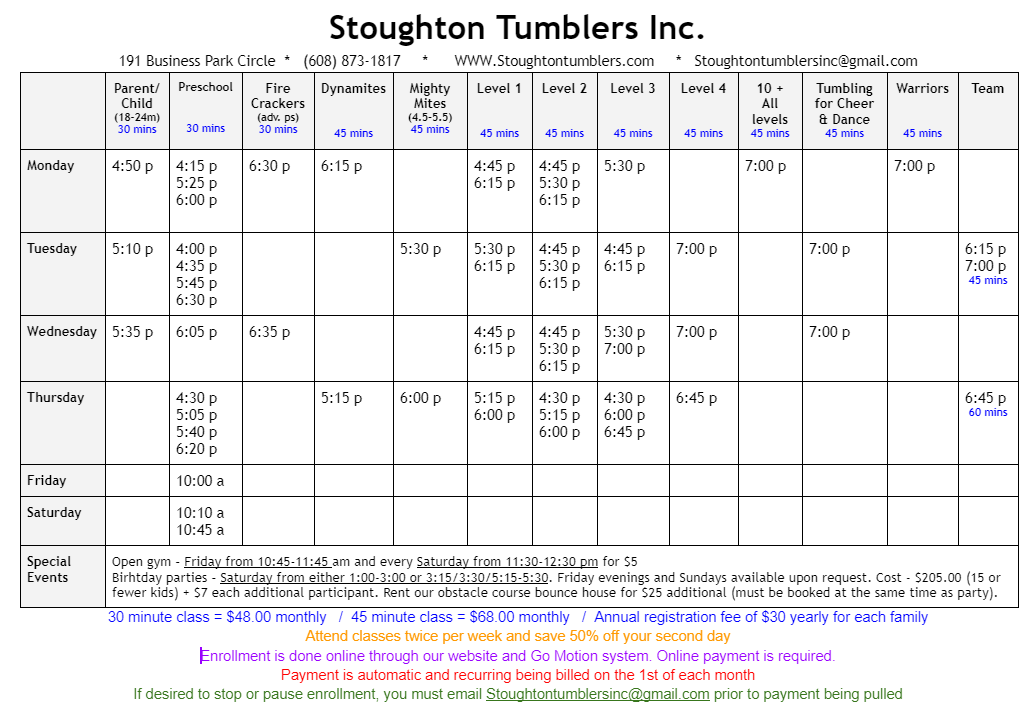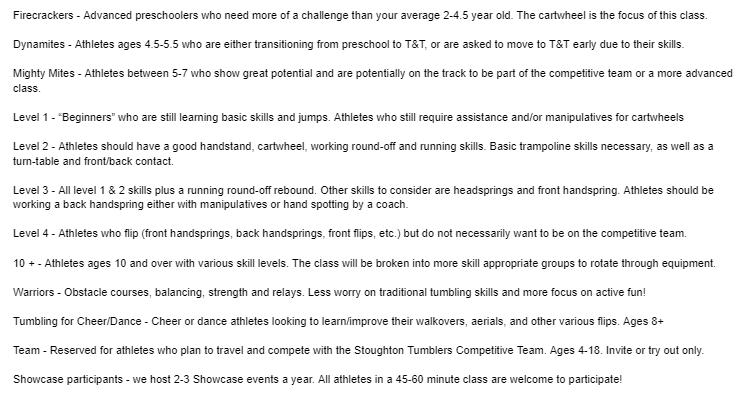 If enrolling mid month, the system will prorate your monthly tuition as well as charge a $30 annual registration fee with your first month's tuition. The registration fee is due once every 365 days from the first time you enroll. Enrollment is automatic with automatic monthly tuition. If you wish to stop classes, please email Stougthontumblersinc@gmail.com and let us know you wish to pause classes and future payments.
To enroll in a class, please follow the following steps...
Step 1: Click on the link at the top of this page " Click here to enroll"
Step 2: Click on the class you are interested in - Make sure to select a class that says "Fall 2023" when looking for classes that begin in September.
Step 3: Select the day and time you wish to sign up for
Step 4: Click on "ENROLL NOW"
Step 5: Fill out the needed information and agree to all waivers
Step 6: Put a debit or credit card on file that you wish to have billed each month.
Step 7: Download the Go Motion application on your phone so you can see your profile, and payment schedule and chat with us!